#10 Demi Lovato
Ever since Demi began dating Miley Cyrus' older brother Trace Cyrus back in 2009, her career and her life took a downward spiral. Since the relationship started, she entered rehab to deal with "eating disorders and cutting (herself)" She also underwent treatment for bulimia, and was diagnosed with bipolar disorder. The funniest controversial thing that I think Demi has done was when she punched Alex Welch, a back-up dancer for the Jonas Brothers, on a flight out of Bogotá, Colombia and gave her a black eye. Which of course Demi was sued for. Attention all parents: Demi Lovato is not a good role model for your kids!

---
#9 Mary-Kate Olsen
Anyone who is rumored to be dating controversial rapper Kanye West, should expect controversy to surround them. But this isn't about Mary-Kate's adult life, it's about her controversial life as a teenager. In 2004, at 18 years of age, she announced she was entering rehab for treatment of anorexia, and she revealed that she has ADHD. At the time it was rumored that she also entered rehab for drug addiction.

---
#8 Ali Lohan
Whenever someone grows up in the same house as Dina Lohan (the worst mother on Earth) and Lindsay Lohan, some of their bad habits are bound to rub off. Ali Lohan, Lindsay's younger sister, allegedly got breast implants when she was just 14 years-old. How's that for controversy? I also fault her for staring in Living Lohan on E!, which was a sad Keeping Up with the Kardashians wannabe show.

---
#7 Kendall Jenner
Being related to paparazzi magnets like Kim, Khloe, and Kourtney Kardashian who are making headlines every single day, Kendal Jenner is bound to create her own controversy by year's end. She's already taken heat for modeling in bikini's; which some people believe is too racy for a 15 year-old girl.

---
#6 Tori Black
Tori Black may not be a household name yet, but she is very popular in Hollywood because of her estimated net work of $8 million. She is famous for becoming a pornographic film actress at age 18, and was the Penthouse Pet of the Month in 2008.

---
#5 Vanessa Hudgens
Vanessa Hudgens is a beautiful girl who loves to pose nude. After her nude photo scandal of 2007 which prompted Disney to say, "Vanessa has apologized for what was obviously a lapse in judgment. We hope she's learned a valuable lesson.", she has still not learned her lesson. In 2009 fresh nude photo's of Vanessa appeared online, and then in March 2011 more nude photo's surfaced, as well as a video. Don't be surprised to see more of Vanessa's body in the year's to come.

---
#4 Jamie Lynn Spears
In 2007, 16 year-old Jamie Lynn Spears announced to OK! magazine that she was pregnant by her boyfriend, Casey Aldridge. Her announcement created controversy because people believe she was trying to "glamorize" teenage pregnancy. Jamie also took heat for being two years below the California age of consent; which led some to believe that Casey Aldridge should have been charged with statutory rape. Her pregnancy prompted Nickelodeon to cancel her popular show Zoey 101.

---
#3 Justin Bieber
Justin Bieber is one of the most polarizing teen celebrities in the past decade. Factions of people love him, and others despise him for looking and sounding like an 11 year-old girl, and for his false squeaky clean image. His relationship with Selena Gomez has ignited controversy because she's received death threats from some of his fans since they started dating. And there was once speculation that he and Kim Kardashian were "fooling around" after being photographed together on the beach.

---
#2 Bristol Palin
Bristol is controversial because many American's can't stand her mother. In 2008 the 18 year-old became a single mother and is now a paid speaker on the subject of teen pregnancy. And she was blasted for using profanity and anti-gay slurs on her mom's reality show, Sarah Palin's Alaska. Most recently she's made headlines because of her new plastic surgery to remove the ugliness from her face reconstruct her jaw, and she is rumored to be dating That's So Raven cast member Kyle Massey, against her mother's wishes.

---
#1 Miley Cyrus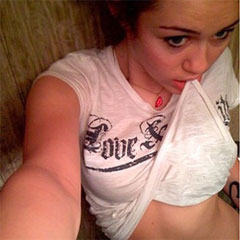 I think Miley Cyrus and Vanessa Hudgens both suffer from long term memory loss. The two of them continue to take racy pictures of themselves and then they later apologize for it and expect sympathy from the public. Miley's photo scandal began in 2007 when photos from her private MySpace were leaked, showing her and a female friend sharing a piece of licorice candy. This led some people to believe she was a lesbian. In 2008, after photos of Miley in her underwear and a swimsuit were released she simply said, "I am going to make mistakes and I am not perfect". In 2010 TMZ released a video of Miley, taken five days after her 18th birthday, where she is seen smoking from a bong. Her dad expressed his sadness on Twitter saying, "Sorry guys. I had no idea my daughter is a slut. Just saw this stuff for the first time myself. Im so sad. There is much beyond my control right now". Miley Cyrus' fame has been replaced by Selena Gomez and I don't see her making a comeback any time soon.

---
Related posts:
Comments
comments